Sophos XG Firewall

The world's best visibility, protection, and response
Our XG Series hardware appliances are purpose-built with the latest multi-core Intel technology, generous RAM provisioning, and solid-state storage. Whether you're protecting a small business or a large datacenter, you're getting industry leading price:performance, and the ultimate in flexibility, connectivity and reliability in every form factor.
Get in touch with a Sophos Solutions Specialist today to Learn More!
Desktop Models
Performance and connectivity for branch offices, retail and small businesses.
---

Firewall: 3 GBPS
NGFW: 310 MBPS
VPN: 225 MBPS
IPS: 580 MBPS
AV (proxy): 360 MBPS

Firewall: 3.1 GBPS
NGFW: 350 MBPS
VPN: 225 MBPS
Threat Protection: 145 MBPS
Xtream SSL: 75 MBPS

Firewall: 3.5 GBPS
NGFW: 400 MBPS
VPN: 360 MBPS
IPS: 970 MBPS
AV (proxy): 150 MBPS

Firewall: 3.55 GBPS
NGFW: 400 MBPS
VPN: 330 MBPS
Threat Protection: 150 MBPS
Xtream SSL: 75 MBPS

Firewall: 4 GBPS
NGFW: 1000 MBPS
VPN: 560 MBPS
Threat Protection: 375 MBPS
Xtream SSL: 130 MBPS

Firewall: 7.0 GBPS
NGFW: 1275 MBPS
VPN: 1500 MBPS
Threat Protection: 400 MBPS
Xtream SSL: 170 MBPS

Firewall: 7.5 GBPS
NGFW: 1800 MBPS
VPN: 1700 MBPS
Threat Protection: 600 MBPS
Xtream SSL: 210 MBPS
1U Mid-range Models
Flexibility to adapt to the needs of mid-sized and distributed organizations.
---

Firewall: 29 GBPS
NGFW: 3.2 GBPS
VPN: 1.92 GBPS
Threat Protection: 800 MBPS
Xtream SSL: 230 MBPS

Firewall: 32 GBPS
NGFW: 4.5 GBPS
VPN: 2.1 GBPS
Threat Protection: 1000 MBPS
Xtream SSL: 280 MBPS

Firewall: 35 GBPS
NGFW: 5.3 GBPS
VPN: 3.05 GBPS
Threat Protection: 1.55 GBPS
Xtream SSL: 370 MBPS

Firewall: 38 GBPS
NGFW: 9.3 GBPS
VPN: 3.94 GBPS
Threat Protection: 2.1 GBPS
Xtream SSL: 560 MBPS

Firewall: 55 GBPS
NGFW: 10 GBPS
VPN: 5 GBPS
Threat Protection: 2.2 GBPS
Xtream SSL: 600 MBPS

Firewall: 65 GBPS
NGFW: 13.9 GBPS
VPN: 6.1 GBPS
Threat Protection: 3.4 GBPS
Xtream SSL: 770 MBPS
2U High-end Models
Optimal performance and redundancy for the distributed enterprise.
---

Firewall: 75 GBPS
NGFW: 15.3 GBPS
VPN: 8.5 GBPS
Threat Protection: 6 GBPS
Xtream SSL: 1 GBPS

Firewall: 85 GBPS
NGFW: 18 GBPS
VPN: 9 GBPS
Threat Protection: 7.7 GBPS
Xtream SSL: 1.35 GBPS

Firewall: 100 GBPS
NGFW: 19.2 GBPS
VPN: 12.5 GBPS
Threat Protection: 9.4 GBPS
Xtream SSL: 1.4 GBPS
Software Installers
Sophos XG Firewall is also available as a software installer for Intel x86 and Virtual environments including VMware, Hyper-V, KVM, and Citrix
Sophos XG Firewall Features
See it. Stop it. Secure it.
Our comprehensive next-generation firewall protection has been built to expose hidden risks, block both known and unknown threats, and automatically respond to incidents.
Expose Hidden Risks
Superior visibility into risky activity, suspicious traffic, and advanced threats helps you regain control of your network.
Stop Unknown Threats
Powerful next-gen protection technologies like deep learning and intrusion prevention keep your organization secure.
Isolate Infected Systems
Automatic threat response instantly identifies and isolates compromised systems on your network to stop threats from spreading.
---
Secure Remote Workers
XG Firewall makes it easy to extend your secure network to employees anywhere.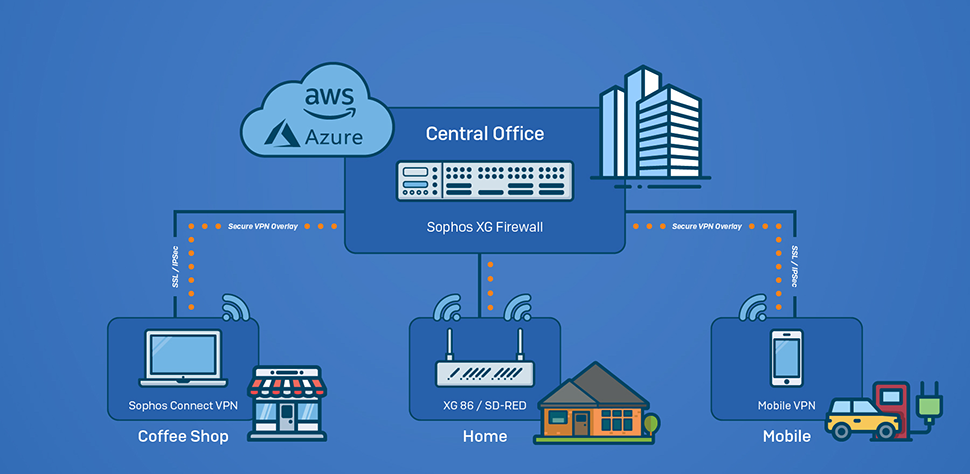 Free, Easy-to-Use VPN Client
Sophos Connect provides an intuitive VPN connection client that's easy to deploy and configure. Give your remote workers secure access to resources on the corporate network from Windows and macOS devices.
SOHO Protection with XG 86 or SD-RED
Our small, ultra-affordable XG 86(w) and SD-RED devices provide the ultimate in SOHO protection with always-on dedicated or split-tunnel VPN that's easy to deploy and manage with a variety of flexible options.
Mobile VPN
Mobile devices can utilize built-in or app-based VPN options including IPSec and SSL VPN for secure connectivity to your XG Firewall protected network.
---

XG Firewall's all-new Xstream architecture delivers extreme levels of visibility, protection, and performance.
XG Firewall Xstream TLS Inspection
Industry-leading performance and visibility into all the encrypted traffic on your network with support for TLS 1.3
XG Firewall Xstream DPI Engine
High-performance deep packet protection in a single streaming engine for stopping all known and unknown threats
XG Firewall Xstream Network Flow FastPath
Accelerate trusted and important cloud, SaaS, and VoIP application traffic for optimal performance
---
A Firewall That Thinks Like You
We've rethought the way firewall rules and security policies are managed. Sophos XG implements a refreshing new unified approach to network security that enables you to see and manage all of your protection in one place - the Rule and Policies Screen.
Policy Perfection
Utilize dozens of built-in protection policies for IPS, web, traffic shaping, and more or quickly customize or create your own policies.
Visual Policies
Protection policies snap-in to firewall rules enabling you to immediately see all the protection being applied to any given source/destination, user/group, or traffic type.
Firewall Flexibility
Granular options for TLS inspection, NAT, and SD-WAN routing enable XG Firewall to fit any network rather than forcing your network fit the firewall.