Sophos RED 50

Securely connects branch offices without local setup

Sorry, this product is no longer available. Check out our new SD-RED
More pricing below, click here!

Please Note: All Prices are Inclusive of GST
Overview: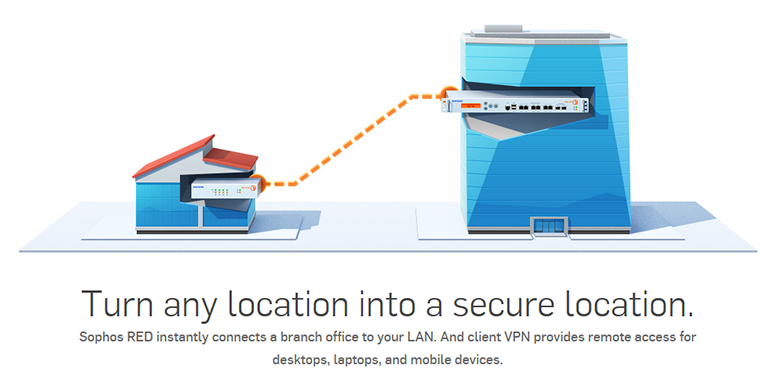 If you have branch offices, retail locations, remote outposts or otherwise need to extend your secure network easily and affordably beyond your main facility, Sophos Remote Ethernet Devices are the ideal solution. Uniquely simple and imminently affordable, RED provides an elegant solution to building a secure distributed network.
Highlights:
Easily extend your secure network anywhere
Two models suiting any type of deployment: RED 15 and RED 50
The strongest AES- 256 bit encryption
Work seamlessly with Sophos Wireless Access Points
Apply the same protection to all locations or customize it to meet your needs
Easy maintenance with automated updates
Features:
Plug-and-protect deployment
Sophos RED makes extending your secure network to other locations easy. It requires no technical skills at the remote site; simply enter the RED device ID into your Sophos appliance and ship it. As soon as it's plugged in and connected to the Internet, it will contact your firewall and establish a secure dedicated VPN tunnel. It's that easy.
Flexible configuration
Set up your RED devices to tunnel all traffic from the remote location back to the firewall, controlling DHCP and other network elements of the remote network. Or you may choose to only route inter-office network traffic via RED, while enabling direct Internet access from the remote location.
Secure encrypted tunnel
All data between the RED and your firewall is encrypted to the strongest AES-256 levels ensuring a tamper- and hack-proof, secure connection. And with our latest XG and SG Series, encryption performance makes this level of protection completely transparent.
Easy centralized management
Since RED is effectively a virtual Ethernet cable connecting your remote locations, centralized management of your distributed network is as easy as managing a single location. You can choose to apply the same firewall, web and other security policies across both local and remote traffic. Or you can create custom policies by location.
Specifications:
Choose your RED
Our RED 15 and RED 50 devices are built on the latest enterprise-class, high-speed networking platforms. They work with any Sophos UTM/firewall appliance (hardware, software, virtual or Cloud). Our full range of Sophos Wireless Access Points are also compatible with Sophos RED.
Licensing
To use a Sophos RED you will need an active Network Protection subscription for either Sophos UTM or Sophos XG Firewall.
RED appliance
RED 15
RED 50
Capacity
Maximum users
Unrestricted
Unrestricted
Maximum throughput
90 Mbps
360 Mbps
Physical interfaces
LAN interface
4 x 10/100 Base-TX (switch)
4 x 10/100/1000 Base-TX
WAN interfaces
1 x 10/100 Base-TX, 1xUSB
2 x 10/100/1000 Base-TX
USB interfaces
1 x USB 2.0 (Rev.2 or higher)
2 x USB 2.0
Serial console
1 x RJ45 console
1 x RJ45 console
LED display
Power, system, router, Internet, tunnel , 4 x LAN, WAN
Power, error, 4 x LAN, 2 x WAN
Power supply
110-240 V, 50-60 Hz, max. 1.5 A
100-240 V, 50-60 Hz, 1.3 A
Physical specifications
Chassis
heavy-duty steel
Heavy-duty steel
Mounting
desktop
Desktop/wall/rack (optional)
Dimensions (W x H x D)
165 x 34 x 134.8 mm
216 x 44 x 189 mm
Weight
600 g / 1.31 lbs
1.1 kg / 2.43 lbs
Power consumption
7 W
38.2 W (max.)
Operating temperature
0-40°C (operating), -20-80°C (storage)
0-40°C (operating), -20-70°C (storage)
Humidity
10-90% (operating), 5-95% (storage), non-condensing
5-90% (operating), 5-95% (storage), non-condensing
Safety regulations
Certifications
CE, FCC Class B, VCCI, RCM, UL, CCC
CE, FCC Class A, VCCI, C-Tick, UL
Pricing Notes:
All Prices are Inclusive of GST
To use a Sophos RED you will need an active Network Protection subscription for either Sophos UTM or Sophos XG Firewall.
Pricing and product availability subject to change without notice.